Knitter, yarn addict, writer, reader, handspinner, dyer, animal lover, and jaded optimist all rolled into one quirky Canadian girl living in the southern Maine
.
I judge the value of items by how much yarn it could buy.
Personal Twitter: Gnomenapper
Etsy Shop:
Dyeing for Ewe
Etsy Twitter: Dyeingforewe
(I do have an intro post, but it's friends locked.)

This work is licensed under a Creative Commons Attribution-Noncommercial-No Derivative Works 3.0 Unported License.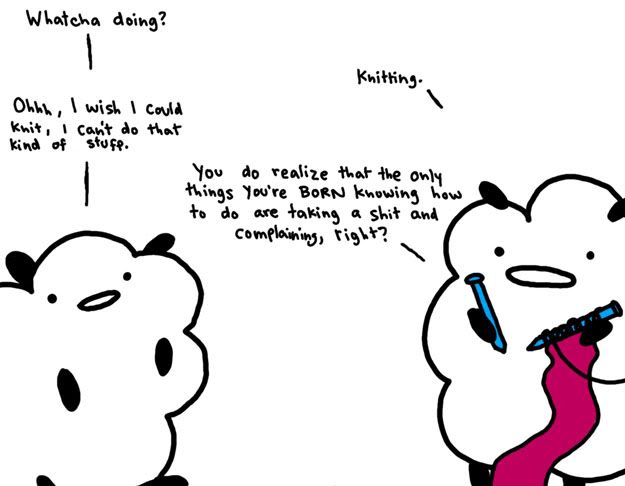 Current Mood:

peaceful


Yarn (natural fibers mainly, but I do appreciate a nice soft acrylic)
Handspinning
Dyeing fiber
Knitting/crochet
DIY
Handmade
The Internet (LJ, etsy, brizzly, ravelry, hulu)
TV (Misfits, True Blood, Doctor Who, Merlin, Bones, Supernatural, The Office)
Reading (anything. I'm a book whore)
My scooter
Movies
Art
Writing (original fiction mainly)
Animals (all but especially my 3 dogs who I talk about constantly. They're that amazing.)
Plants
Freckles
Friends/family
Things that smell nice
Green (the colour and the lifestyle)
Traveling (I'm a nomad. I like to move to new places to live, not just vacation.)
Looking for the positive.
Reading in the bathtub
Poignant moments caught in time. (photographic images, movies, art)
Food (I love trying new things. Sushi is my favorite)
Artsy fartsy non conventional stuff
Music (Most any, but typically things off the beaten path.)
Honesty, loyalty, non combative. Opinionated is good, combative is unnecessary drama.
I value the unique and original. (People and things)



Now what do you like?

I like:
lattesaremylife
I had a great tutorial to work from. Also thanks to my fabric addiction I had some fun fabrics to choose from... and away I went.
It's pretty basic stuff, but I thought it would be fun to document for the future. I'm really happy!
The tutorial is from
In Color Order
Okay first up, I needed 3 fabrics for the project, and to cut out all the pieces.
My husband raised his eyebrows at my choices, but they all go together!
Cut out all my pieces (which was the longest part of everything to be honest. I wasted some of the zig zag because I can't cut a straight line.)
I sewed all the pieces in order.
Folded in half and sew up the sides.
Pulled it inside out through one of the holes I left for the draw string. (tricksy!)
I broke a needle sewing the draw string. Whoops!
But I fixed it! Yay for learning something else.
Drawstring in!
It's a great size for a sock knitting bag. I bet I'll make a bunch of these in all sorts of fabrics. Next time it hopefully won't take me all day though.
The zig zag was supposed to be the exterior, and the leaves the inside- but I cut the pieces wrong. Glad it turned out well though! Next time I may do the draw string in the same fabric as the interior, so it gets a bit more notice. But then again, it may have been *too* busy that way. Hmm..
Thanks for taking a look!
I spent today sewing a knitting bag in my studio! Thanks to
What is on your holiday wish list this year? One random answer will win a $50 Amazon gift card. [Details
here
]
A sewing machine! I've wanted to learn since my Mum used to sew me capes when I was little, but then I went through a phase where I refused to do "girlie housewife martha stewart" stuff. Thankfully I grew up and now I'm addicted to checking out fabrics, and just need the machine to be able to sew cute things.
1) I day off down, 2 to go. Totally feel like I wasted today sleeping too late- but I got the stockings up and the mantle (mantel?) decorated.
2) I wish I hadn't had that 3rd guiness.
What are you thinking about right now?
Two main thingsL\:
Pay off our bills/cars.
Help family.
Go to Italy/France/England/Ireland/Scotland
I figure that would take care of maybe half- then save the rest.
What would you do if you had a million dollars?
Buy a house, entirely with cash. Nothing extravagant though, just an old house (love the old new england homes! Like a 100 year old one with a ton of character) with a yard and maybe a wee bit of land.
kettlebell
is and thought I'd take a moment (wow I'm posty today!) to explain.
Please don't take this as any sort of expert advice. I'm brand new at the kettlebell myself, but really enjoying it!
Okay so the kettlebell is a round weight with a handle. You can get all sorts of weights, but you really want it to be heavy because a lot of your work is done with swings and such. I currently have a 10lb one I got at Walmart (heaviest they had), although I really should be using one that is a bit heavier I believe. I'm good for now though.
Seriously these workouts are *short* but super effective, and great to do at home. I did a 15 minute workout and thought I had more in me, and only got 5 minutes into another before practically falling over.
Here are a few videos to show you what it's like. I love the kettlebell swing. OMG. My gluts totally felt it because you do a bit of a hip thrust to help control the weight that really works your core and bum muscles. It's awesome because you're using your arms, legs and muscles you don't even realise as you control the weight.
MMA fighters do a lot of kettlebell from what I understand, because it helps create explosive muscles (ie instant quick power.) and it really does get in some cardio because of the swinging etc.
I was asked what a
What's your favorite music video of all time?
Hmm. Probably Thriller.
If you had to eat the same breakfast everyday for a year (and it would be prepared and served to you), what would you choose?
Ahhh!
I love breakfast foods, and this question got me all giddy at even just the *thought*.
Okay first off- Eggs Benedict. Ham and a medium poached egg with hashbrowns and fruit. Basically the eggs benny from Cora's.
But if I ate that everyday I'd be a fat cow in like... a week.
Sooo.... Corned beef hash!
No wait.. fat cow again
Um... 2 eggs over medium with country ham and hashbrowns.
Wait. Fat cow and
Bacon omelette with hashbrowns from Clemmons Kitchen.
Oh gosh. Fat cow.
Are we sensing a theme in my breakfast foods?
I'd gladly work out 3 hours a day if it meant I got to start off with Eggs Benedict though.,